I do not normally post every meal I make, repeats or randomness. I also do not cook fancy new recipes EVERY day of EVERY WEEK. Occasionally there will be a whole week where I rely on tried and true rotation recipes and have very few posts. (What, you really thought I cooked gourmet EVERY NIGHT? PAHLEASE..southern farm girl here...with a big garden and a full time corporate america job...I do not have time for all that).
However, every once in awhile, something mundane and boring jumps out at me. A creative use of leftovers (in my effort of not wasting food)for example that made an extremely yummy quick and easy meal. A "new" way of doing Baked Spaghetti and planning out meals that I think is worth sharing. Plus, I'm posting for Mama Bird's Whatcha Cooking Wednesdays (since I cooked absolutely NOTHING of interest last wednesday! LOL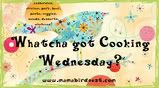 So here goes:
Baked LeftOver Spaghetti
Ingredients:
4 cups (or so) of Leftover Homemade
Tomato Soup
(which was also used in the
pizza
so this recipe got a lot of use and none was wasted!)
1/4 cup fresh grated Parmesan
1/4 cup fresh grated Gruyere
1/4 cup Fresh grated American
1 cup shredded cheddar
1 fresh Mozzerella Ball (crumbled)
1 1/2lbs spaghetti noodles
1/2 pound ground turkey browned(leftover from the
pizza
as well)
Directions:
Boil noodles in salted water till al dente. Spread in a 9 x 13 casserole dish with about 1/4 cup pasta water (to thin out chilled soup). Pour soup (cold) over noodles and mix well. Layer cheeses and turkey over the top. Bake at 350 for about 30 minutes until cheese is melted and has formed a crust.
Serve.
Surprisingly, I liked this BETTER than making regular spaghetti sauce and baking it up. This had so much more flavor and the noodles absorbed all the soup.